How to manually create a backup for a control system
Backups can be created from the control systems page in grid view. The target control system must be online in order for backups to be created. Right-click the target control system and open the Advanced settings sub-menu and click the Create backup option. Multiple control systems can be highlighted to create a backup for all of the selected control systems at once.
This will attempt to read the database of the control system and save a copy of it to storage. An error dialog will appear if it fails on any of the selected control systems. If no dialog appears then it has completed successfully on all control systems.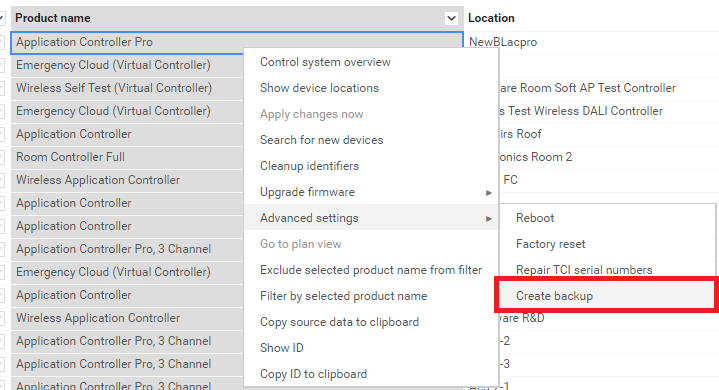 How to restore a backup for a control system
Backups cannot be restored manually by a user at this time. To restore a backup, contact support@zencontrol.com and an engineer will attempt to restore the backup to the control system. This process can take up to 3 days. To ensure the process runs smoothly please include the following in your support request:
Name and/or tag of the site that the control system is assigned to
The identifier of the control system

Or preferably the GTIN and serial of the control system which can be found on the Network page of grid view