Tenancies can be created and/or managed by site owners or site members that have the tenancy management feature granted to them. The tenancy management page can be accessed from a site's dashboard or the sidebar shortcut.
The tenancy management page is similar to grid view and has many similar functions. The first view that is loaded for the page is the Tenancy view. To create a new tenancy just type the label for the tenancy in the last row of the view and press the enter key. This will create a new row and it will be grey momentarily whilst it is being created and should turn back to white when complete. You can create as many tenancies as you like.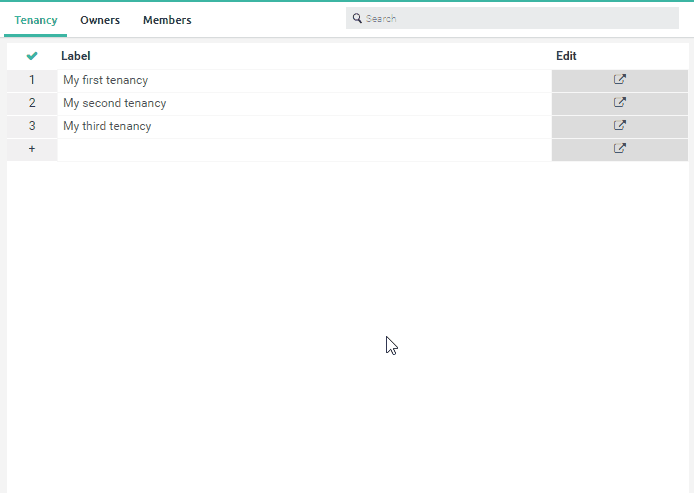 To assign users to a tenancy you can click either the Owners or Members tab depending on what kind of access level you plan on giving to the user for the tenancy. This will display all users for all tenancies. To filter the list of tenancies down you can either right-click on a tenancy name in the owners/members tab or click the edit link in the tenancy view.
To assign a new user to a tenancy, double click or press enter on the white cell in the last row. This will bring up a dialog allowing you to select which tenancy to add the user to as well as a search bar to find users. Select the tenancy and search for the user you wish to add. You must type at least 3 characters to search for a user. Once you find the user and select them you can click the "Add owners" or "Add members" button depending on which page you are on. You should see the user appear in the list now.

After a user has been added you can then grant or revoke which features to the tenancy they have to the right of their name. If a user is apart of multiple tenancies updating any of the features they have access to will update across all tenancies they have access to. A dialog will appear telling you this information if you attempt to change a feature and they are on multiple tenancies. You can also tick the checkbox to prevent the dialog from appearing again until you refresh the page.