First, set up a profile with an elevated profile priority.
Click Site at the top right and select the Profile Tab.
Each profile has a Priority. Setting the profile priority above "standard" ensures that a regularly scheduled profile cannot cause a controller to exit the higher priority profile. The controller should remain in the emergency profile until instructed to exit via the absolute input or other means.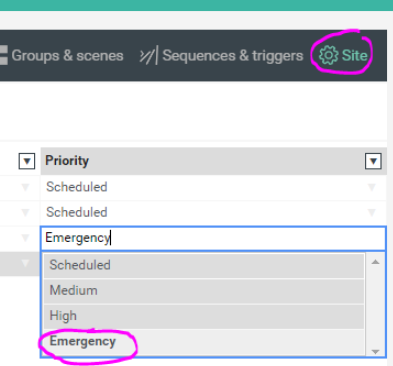 A profile can only interrupt a profile with lower priority.
Ensure that the profile is assigned to the controller (Control System->Profile Assignment)

In the absolute input section (Instance Types->Absolute Input), configure your absolute input to be a binary (or inverted binary, depending on orientation) for all profiles, including the emergency profile.

Give the absolute input a system address to trigger a sequence on. This will often instead be a zone - so as to broadcast a broader trigger out to multiple controllers.

Create a sequence to enter/exit the emergency profile. This is a 2 action basic sequence that uses the absolute input value to either go into the emergency profile or return to the scheduled profile (which can be used to exit a high priority profile).
Action 1
Condition "IF input at value 0" do Action Profile Function -> Enter Profile -> "3 - Emergency Profile"
Action 2
Condition "IF input at value 1" do Action Profile Function -> Return to scheduled profile

Apply a trigger entry (Sequences&Triggers->Trigger), type System Address, with target of the System address you created for your Absolute input. Select to run on target "Broadcast" and place the sequence in ALL profiles in the "Standard" position (Normal Hours, After Hours and Emergency). Each time the absolute input is changed, the evaluation sequence will be triggered.




To ensure that the lights are all turned on in the Emergency profile, create a single action sequence to broadcast recall maximum level to all lights and apply this sequence (named "Emergency Mode" in the image bowl) to the emergency profile row already set up as an "On entry" sequence.

Naturally, leave switches, sensors and other sequences disabled from operating in this emergency profile, to ensure that all lights remain on.